Energy, drinking water and mobility concepts for The Gambia
In The Gambia, the smallest African country, fishing is the main source of income for many families living across the river Gambia and the coastal line. However, due to missing electricity in remote rural regions their catch cannot be cooled or freezed and therefore a lot of fish spoiled.
The VoltaViewAfrica Powerhouse will help: Electricity and cleaned water make it possible operating fridges and ice machines. This increases profitability and competitiveness of their fishing business. As a result, the price for local fish can be reduced and people will benefit from safe food.
Besides this, currently there are intensive efforts in the transport sector to promote e-mobility in The Gambia, especially for e-TukTuk, but also for e-outboard engines driving fishing and tourist boats on the river Gambia. Here the VoltaViewAfrica Powerhouse plant will be used as a regenerative charging and/or exchange station for swappable VoltaMove2Go battery packs driving e-TukTuk and e-fishing and tourist boats.
In 2023 three VoltaViewAfrica Powerhouse plants will be installed as reference/pilot project in The Gambia, supported by the RES program. They will serve the following fields of application: training and further education in collaboration with the University of Applied Science, Engineering and Technology (USET) at Banjul, charging stations for e-mobility and decentralized energy and drinking water supply in remote rural regions supporting food safety. Due to its geographical compactness, The Gambia offers perfect conditions for demonstrating this new technology and for a first market launch. An expansion of VoltaViewAfrica Powerhouse plants in combination with VoltaMove2Go power packs to other parts of West Africa as a next step is planned for the second half of 2023.
e-tuktuk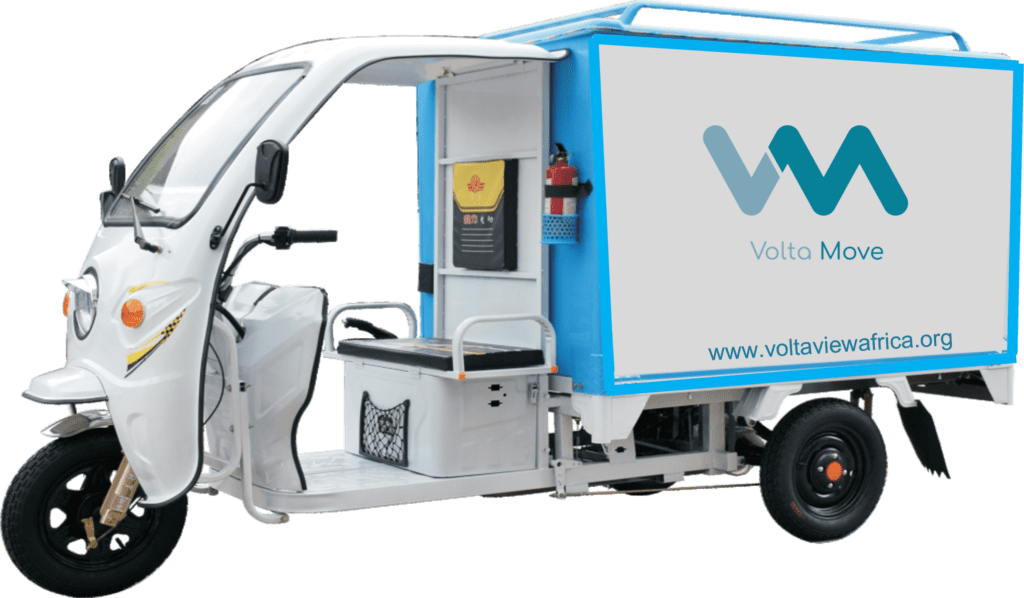 Technical Data
Basic equipment
weight 350 kg (including battery)
load capacity 500 kg
power 1.5 kW, 40-60V
swappable battery cases, 4.8 kWh
speed max. 50 kmh
driving range 120-150 km
Optional
solar roof 300 Wp
charging the battery by solar power during driving and parking
extended driving range up to 200 km
PrESS

What The Gambia has to offer in abundance is sunshine. This precious energy from the sun can be harvested, converted into electricity, and then stored in a powerhouse. That is what VoltaViewAfrica.org is doing in The Gambia: implementing regenerative energy technologies developed in Germany by the renowned research institution Fraunhofer HHI, manufacturing powerhouse plants by their start-up companies VoltaView GmbH and VoltaMove GmbH, and finally installing them in The Gambia.

This Project is supported by the German Federal Ministry for Economic Affairs and Climate Action as part of the Renewable Energy Solutions Programme of the German Energy Solutions Initiative.
German Energy Solutions Initiative
Renewable Energy Solutions Programme (RES Programme)
German Energy Agency (dena)
With the aim of positioning German technologies and know-how worldwide, the German Energy Solutions Initiative of the Federal Ministry of Economics and Climate Action (BMWK) supports suppliers of climate-friendly energy solutions in opening up foreign markets. The focus lies on renewable energies, energy efficiency, smart grids and storage, as well as technologies such as power-to-gas and fuel cells. Aimed in particular at small and medium-sized enterprises, the German Energy Solutions Initiative supports participants through measures to prepare market entry as well as to prospect, develop and secure new markets. www.german-energy-solutions.de/en
With the RES programme, the Energy Export Initiative of the Federal Ministry of Economics and Climate Action (BMWK) helps German companies in the renewable energy and energy efficiency sectors enter new markets. Within the framework of the programme, reference plants are installed and marketed with the support of the German Energy Agency (dena). Information and training activities help ensure a sustainable market entry and demonstrate the quality of climate-friendly technologies made in Germany. www.german-energy-solutions.de/res-programm.html
The German Energy Agency (dena) is a centre of excellence for the applied energy transition and climate protection. dena studies the challenges of building a climate-neutral society and supports the German government in achieving its energy and climate policy objectives. Since its founding in 2000, dena has worked to develop and implement solutions and bring together national and international partners from politics, industry, the scientific community and all parts of society. dena is a project enterprise and a public company owned by the German federal government. dena's shareholders are the Federal Republic of Germany and the KfW Group. www.dena.de/en
Other Projects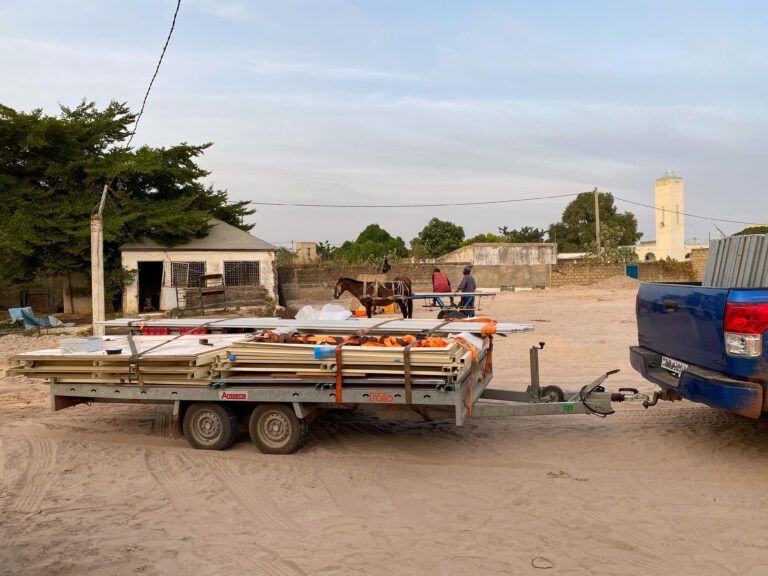 School project in Kaolack/Senegal The Brusch&Ritscher Foundation enables the construction of a school center in Kaolack/Senegal, resulting from a school and town partnership between the Lower Saxony town of Osterode…